LADY CHARLOTTE was built as a saloon launch for passenger excursions on the River Dee at Chester in 1914 by J. Crichton & Co. of Saltney, Cheshire. She was originally called the FLYING FOX, named after a very successful racehorse owned by the Duke of Westminster. The Duke donated many of his winnings to charitable causes. In a letter dated 8 July 1899, describing the founding of what became the Royal Alexandra Hospital in Rhyl, he wrote: 'With Flying Fox's powerful co-operation (and he is quite with us), I hope after his next race on the 14th to send a cheque for £10,000 to the Hospital building'. The launch's excursions, run by Bithells Limited of Chester, took her passed Eaton Hall, the Duke's country house.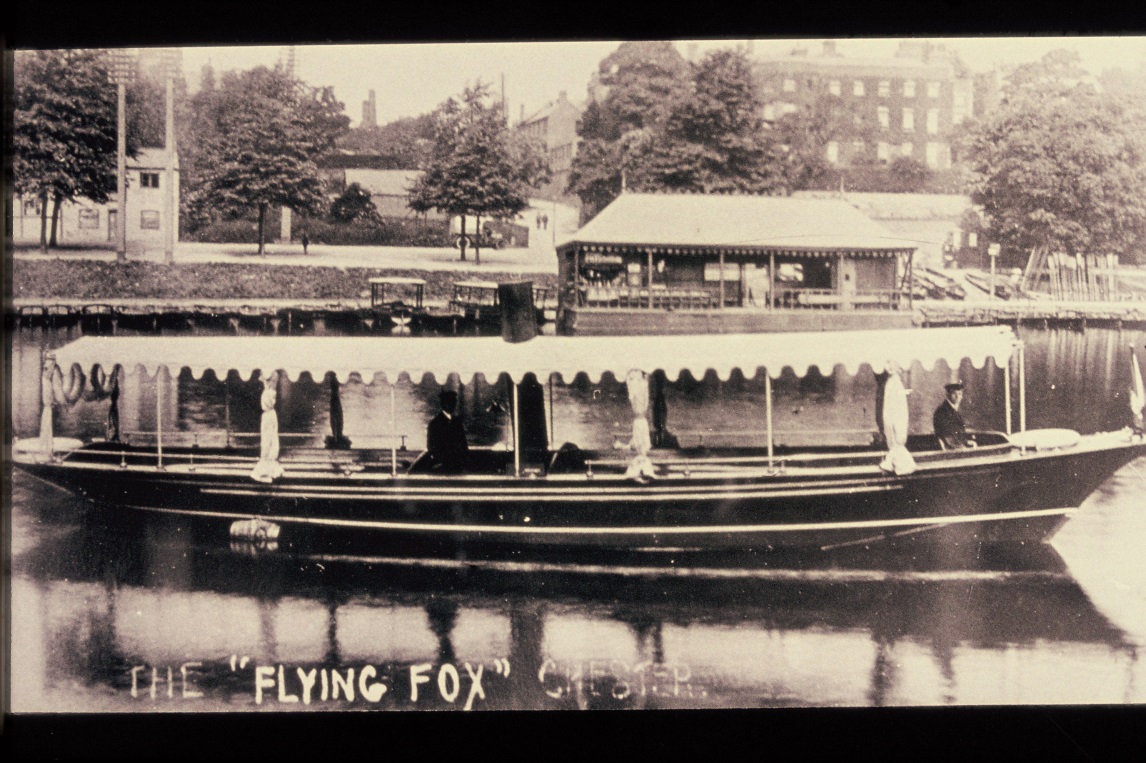 During the First World War Eaton Hall was used as a convalescent hospital for wounded soldiers, with its main rooms becoming makeshift wards. LADY CHARLOTTE, as the FLYING FOX, was one of the boats used by the Duke of Westminster to provide trips on the River Dee to war wounded recuperating at the Hall.
Set in a large estate one mile south of the village of Eccleston in Cheshire, Eaton Hall is a magnificent, ornate Victorian building designed by Alfred Waterhouse. Building began in 1870 and it took 12 years to complete. It was the third hall of this name on the site. The first, built in the 17th century, was replaced in the early 19th century by a much larger house designed by William Porden. This in turn was replaced by the Hall completed in 1882.
During the Second World War parts of the Hall were again used as a hospital. In 1943, the Britannia Royal Naval College moved to the Hall from Dartmouth when the college there was bombed. The College moved back to Dartmouth in 1946, after which Eaton Hall was used as an officer cadet training school until the end of National Service in 1958.
Where is she now?
In 2009 LADY CHARLOTTE, still under the name FLYING FOX, was acquired by a new owner. She was re-named LADY CHARLOTTE, and is now based at a mooring on the Wargrave Road at Henley on Thames, where she is used as a relaxing river day boat.
Sources:
Nursing staff and convalescent soldiers in Eaton Hall, Imperial War Museum photographic archive, 2012-07-23.
Pleasure boat outing by convalescent soldiers on River Dee, Imperial War Museum photographic archive, 2006-12-09.
Letter from Duke of Westminster to Miss Vizard, 8 July 1899, Flintshire Record Office, H/2/11.
John Dixon and Geoff Pickard (2002) J. Crichton and Co, Shipbuilders, Saltney and Connah's Quay: A Pictorial Record. Cleckheaton.