WIGHT QUEEN, launched as FERRY QUEEN, was built in 1908 in Gosport by Camper and Nicholson Ltd for the Gosport and Portsea Waterman's Steam Launch Company, as a passenger ferry to transport people the short distance from Gosport to Portsmouth. She is of steel plate construction.
At the outbreak of the First World War FERRY QUEEN carried on with her ferrying duties in Portsmouth Harbour, and continued to do so for the duration of the war... indeed for a total of 48 years, from 1908 to 1956. She was then sold to the Solent Boating Company and renamed WIGHT QUEEN.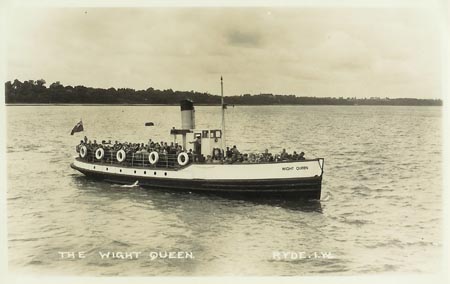 WIGHT QUEEN's original engines were steam, and she was converted to diesel on her sale to the Solent Boating Company. When acquired by her present owner in 1991 the diesel engines had been removed.
Where is she now?
WIGHT QUEEN is now a houseboat on the Thames in West London.