Monitor M33 was built by Workman, Clark & Co Ltd of Belfast, sub-contracted from Harland & Wolff Ltd. There were just 20 weeks between her being ordered and firing her first shots in anger. She was ordered on 15 March 1915, laid down on 1 April, launched on 22 May, completed on 24 May, and on Monday 2 August 1915 she fired her first shots.
Monitors had their origin in the American Civil War, as well-armoured ships capable of manoeuvring close to the shore line and able to bombard well-defended enemy positions. During the First World War Winston Churchill, the First Lord of the Admiralty, and Jackie Fisher, the First Sea Lord, understood the need for vessels that could strike enemy-held positions, but at the same time were able to avoid coastal submarines and mines due to their shallow draft.
In 1914 a rapid programme of building of monitors began. In all 35 were constructed. They ranged in size from the Erebus class (8,000 tons with a main armament of two 15 inch guns) to the M29 class (540 tons with two 6-inch guns). M33 was one of the smaller M29 class vessels. Her overall length was 177ft 3in, her breath 31ft 9in, and her draft 5ft 11in. She displaced 580 tons, and she was capable of a top speed of 10 knots. She carried two 6-inch Mark XII guns sitting fore and aft, along with a Hotchkiss 6-pounder and two 0.303 Vickers machine guns. She was powered by a twin screw triple expansion engine of 400 IHP, and had a complement of five officers and 67 men.
On completion M33 was immediately sent to the Dardanelles in Turkey to support the allied landing of British, Australian and New Zealand troops at Gallipoli. With deadlock at the Western Front it was considered that a knock-out blow to Germany's ally Turkey would place greater strain on the Germany army, and open up a supply route to Russia.
M33 left Belfast on 26 June 1915 for the Dardanelles under the command of Lieutenant-Commander Q.B. Preston-Thomas, a journey expected to take 3-4 weeks. She was placed under tow by the vessel BLACKHEATH, and was only able to make around 7 knots. With fresh provisions running out, the crew lived off rations of biscuits and corned beef, but finally arrived in Malta on 14 July, Bastille Day.
The harbour brimmed with French vessels. Leading Signalman Henry Mulligan noted in his diary: 'Asked for fresh provisions to be sent. Shall be glad to taste bread again. One of our stoker's POs (Petty Officers) played the bagpipes as we were going up harbour. Don't know what the Frenchman thought about it, but we don't think much of his abilities and his music!'
Arriving at the Dardanelles on 31 July 1915, enemy aircraft were seen dropping bombs on neighbouring Kephalo. Henry Mulligan again commented: 'Had a view of entrance to Dardanelles last night on the way up to Kephalo. Quite a decent sight. The night lit up by star shells and flashes from guns and a deafening noise kept up all the time. Enemy reported to be using seaplanes. One was chased from Tenedos to the Dardanelles this morning. Enjoyed sight of first air fight.'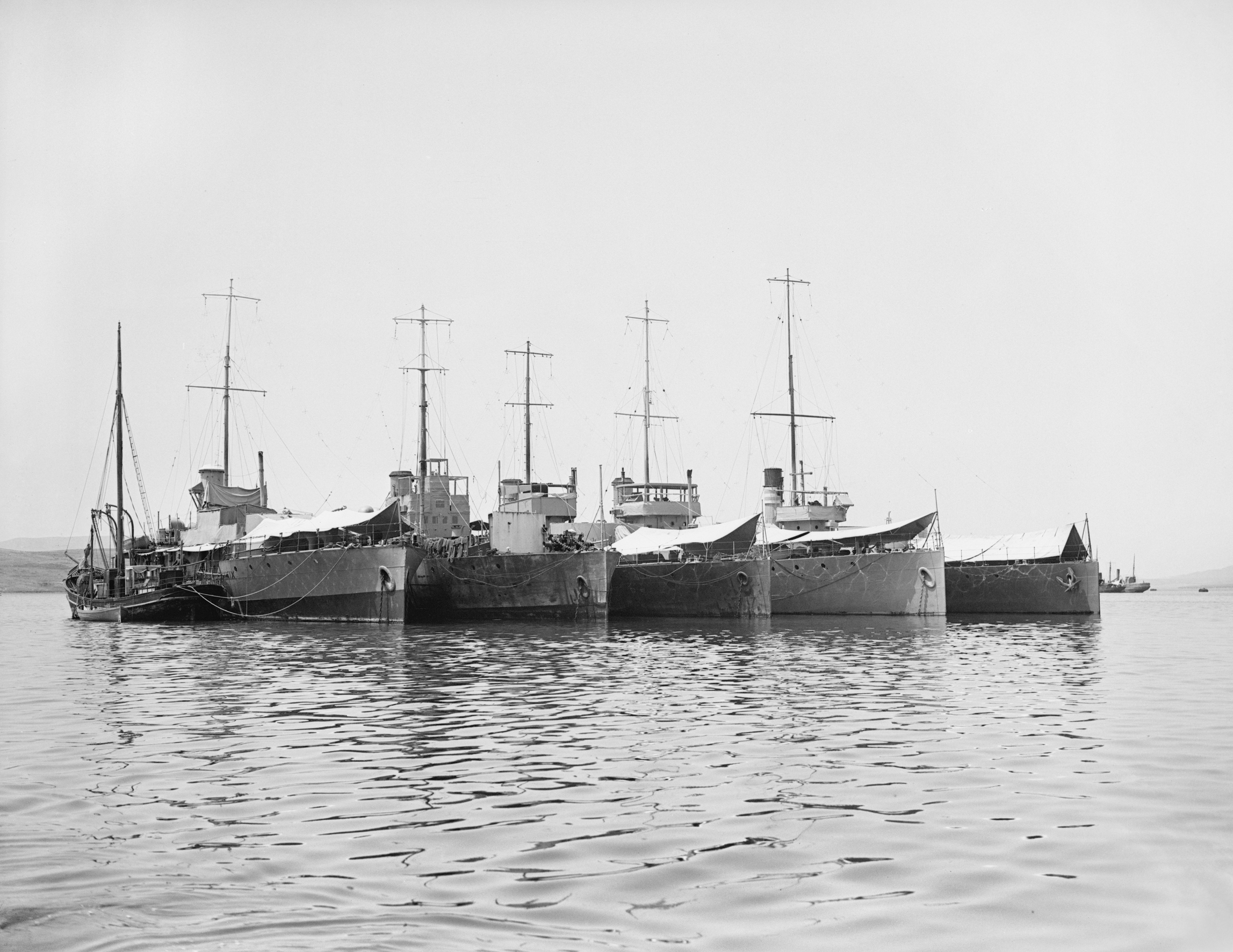 M33 fired her first shots in anger on 2 August 1915, bombarding the Turkish village of Yeni Sherhr causing little damage. On 6/7 August M33 was sent to bombard the Turkish coast between Anzac Cove and Cape Helles. She was immediately fired upon but, although a few shell fragments landed on board from near misses, no damage was done. She continued in this role of bombarding the coast until she was relieved by H.M.S. HUMBER and underwent repair work, returning to the other monitors in December, but she missed assisting in the evacuation due to the need for more repair work.
M33 remained on active service throughout the war. In January 1916 she assisted the army in establishing a base at Stavros, acting as a guard ship or boom defence vessel at Salonika, the Allied base for the war in Bulgaria. In May 1916, under enemy fire, she assisted in salvaging guns from the damaged M30 beached on Long Island in the Gulf of Smyrna. She covered the evacuation of the wireless telegraph station and aerodrome on Long Island.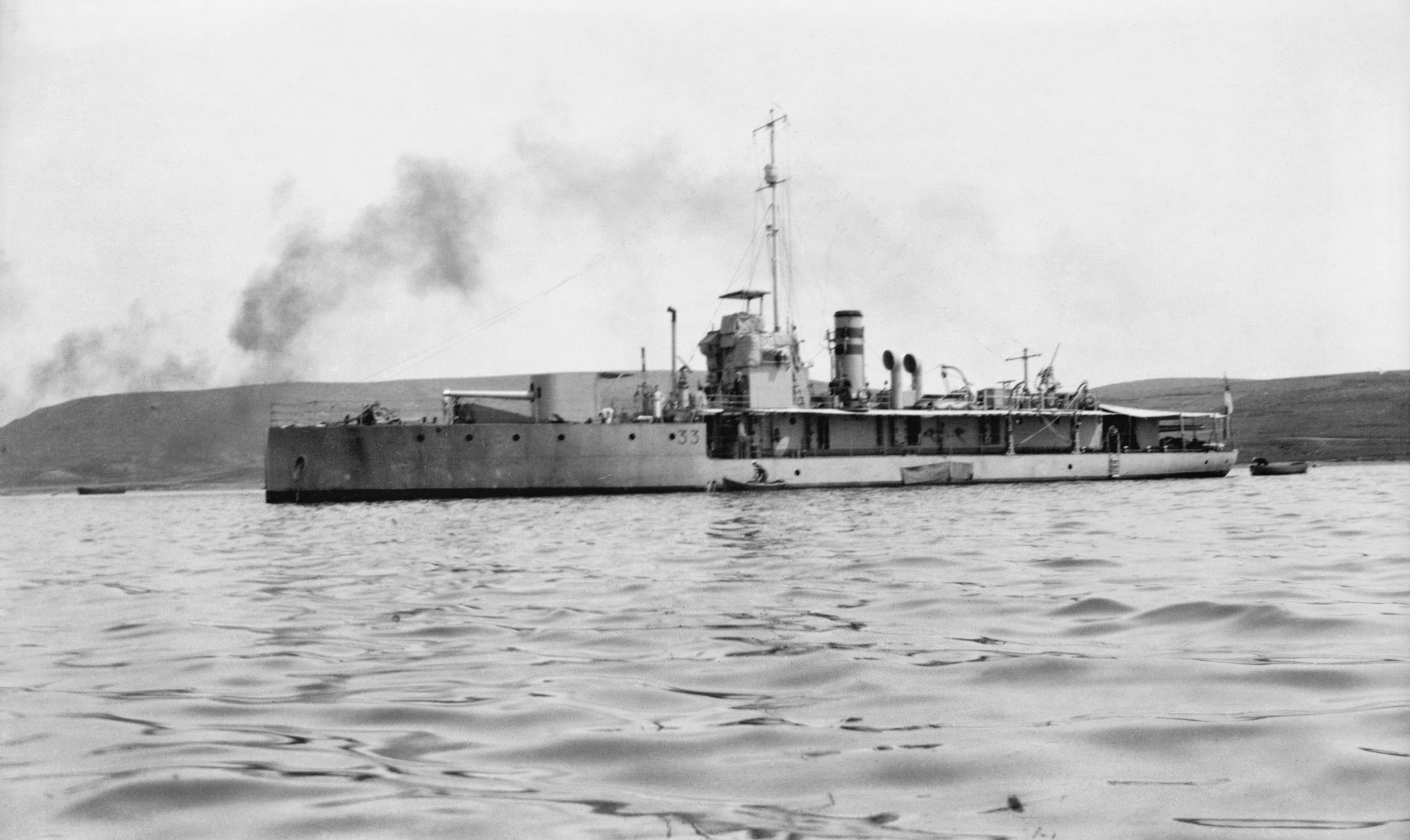 In July 1916 MONITOR M33 provided covering fire during a cattle raid on the Turkish coast. The following month, August 1916, MONITORS M33 and M32 were detached to assist the French bombardments on the south coast of Turkey. In December 1916, she was tasked with protecting the bridge between Euboea and mainland Greece from Greek Royalist troops.
In May the following year, she bombarded enemy batteries near Suvla and Anzac Beaches on the Gallipoli Peninsula. With the end of the war in November 1918 MONITOR M33 was one of the vessels supervising the armistice with Bulgaria at Stavros and with Turkey at Syra. In April 1919 she returned to England and was de-commissioned.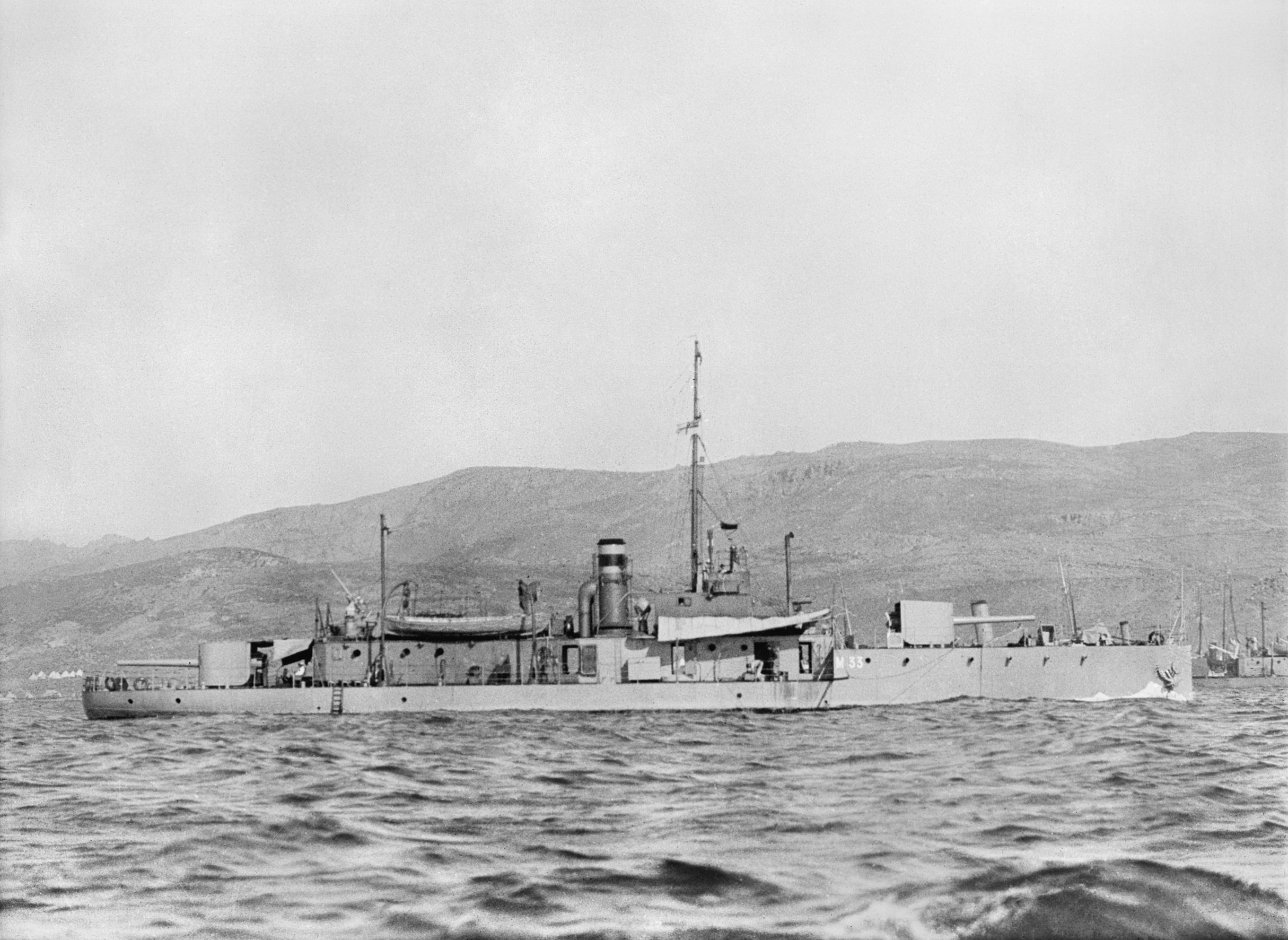 However, MONITOR M33 was quickly refitted and was re-commissioned on 10 May 1919, so that she could be sent to North Russia with the British Relief Force to cover the withdrawal of Allied and White Russian troops. MONITORS M31, M24, M25, M26 and M27 were also part of the Relief Force. The action was known as the Dvina River Campaign.
Arriving at Archangel in early June, the force steamed up river and bombarded Bolshevik positions, including Seltso and Selemengo Wood, allowing an orderly Allied retreat. Throughout the campaign the river level was unusually low. On the return to Archangel at the end of August the guns had to be removed and loaded onto barges. M33 had dummy guns made from driftwood, pipes and biscuit tins to fool the enemy.
On 23 September 1919, with the guns back aboard, M33 returned upriver to Spaskoe to cover the evacuation of the last 500 British troops. Monitors M33, M31 and M26 were among the last to leave. M33 returned to Chatham on 17 October.
She was known as M33 during the period 1915 to 1924, but in 1925 she became H.M.S. MINERVA, a name she retained until 1939. In the Second World War, between 1939 and 1945, she was known as C23(M), but in 1945 she became R.M.A.S. MINERVA.
Where is she now?
M33 is currently in dry berth at Portsmouth. The Museums Service of Hampshire County Council acquired her in 1990 to preserve her for the county and the nation. They are working in partnership with the National Museum of the Royal Navy to complete her conservation, with a view to enabling full public access in time for the 100th anniversary of the Gallipoli Campaign in 2015.
Sources
Buxton, Ian (2001). His Majesty's Monitor M33, 1915-2001, Hampshire County Council, 7.