One of the last examples of a Royal Navy sloop, H.M.S. PRESIDENT was built in the closing stages of the First World War in 1917 by Lobnitz & Co. Limited of Renfrew in Scotland as the Flower-class sloop H.M.S. SAXIFRAGE. Sloops of this class were named after different flower varieties; H.M.S. SAXIFRAGE was named after the flower known as London Pride. She was launched on Tuesday 29 January 1918, and commissioned on Monday 25 March 1918.
SAXIFRAGE was built for convoy escort and anti-submarine duties to help keep the U-boat scourge at bay. She was one of a group of vessels commonly known as 'Q-ships'. The aim was for the vessel to appear to be an ordinary merchant ship, but in fact to be hiding armaments such as 4-inch and 12-pounder guns ready to attack and take the enemy by surprise. The thinking was that a U-boat would be unwilling to use a precious torpedo on a small merchant ship, so would surface to sink her by gunfire or explosives, unaware that the merchant ship was heavily armed.
Most of the Q-ship crew would appear to be abandoning ship in panic, but a small team of naval officers would remain on board to remove the covers disguising the guns, and open fire on the U-boat once it was in range. U-boats would often send a team with explosives over in a small boat with the intention of sinking the merchant vessel. The role of Q-ships like H.M.S. SAXIFRAGE was to lure and sink the U-boats.
As an Anchusa- Flower class sloop H.M.S. SAXIFRAGE had an overall length of 262.5ft, a beam of 35ft, and a draft of 13.7ft. Her gross tonnage was 1,290, and she was propelled by a 4 cylinder triple expansion engine, generating 2,500 hp (1.864 KW). She could carry 260 tons of coal, and a complement of 93 crew. However, in addition to her armaments, H.M.S. SAXIFRAGE had another trick up her sleeve, and that was the use of dazzle camouflage.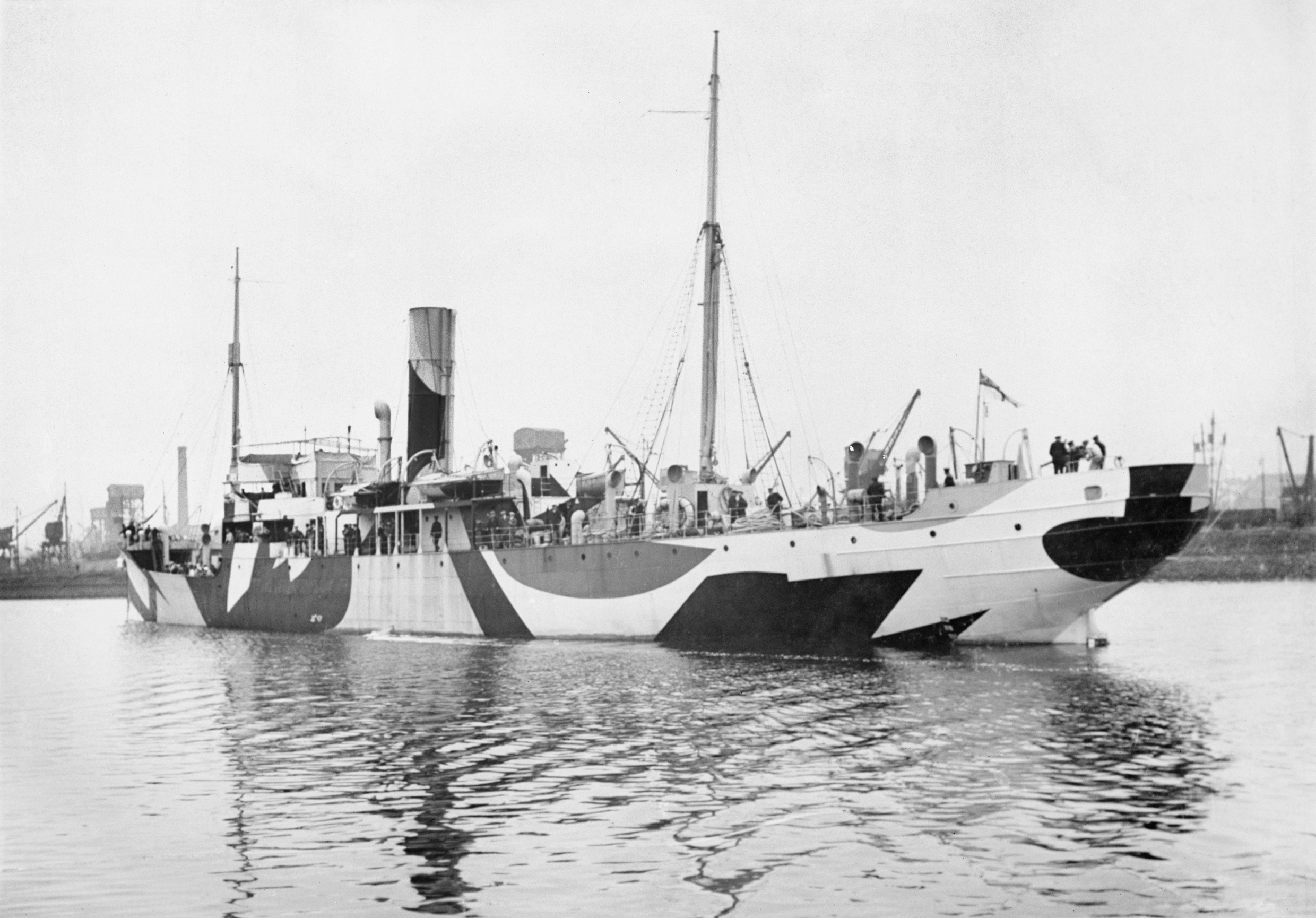 In 1914 a zoologist from Glasgow University, Professor Graham Kerr, suggested to the Admiralty that lessons about the protection of vessels at sea could be drawn from nature. Some animals gain protection by confusing their attackers. Kerr suggested that ships could be painted using the bold stripes of zebras, skunks, ringed plovers and other creatures.
The Admiralty asked the artist Norman Wilkinson to develop the concept, and he assembled a group of artists, model makers and students to come up with designs and test them out. They called themselves the Dazzle Section. Their solution was to paint ships in striking patterns, and a very wide range of both colours and patterns were used.
As she was only launched at the beginning of 1918 (under the command of E.J Birch R.N), H.M.S. SAXIFRAGE served for just 8 months before the end of hostilities. However, her log books indicate that she travelled to numerous ports around the country including Liverpool, Plymouth and Chatham. She never actually sank a submarine but was involved in a skirmish with one, engaging a U-Boat during the remaining months, but did not succeed in sinking it.
She was known as H.M.S. SAXIFRAGE between 1917 and 1921, and renamed H.M.S. PRESIDENT in 1921, the name she retains today. H.M.S. PRESIDENT became a R.N.V.R. drill ship in 1922, when she was moored on the Thames Embankment in London. She has remained there ever since, as a constant backdrop to the river and the city. When she was a drill ship all naval officers employed in the Admiralty in London were nominally appointed to H.M.S. PRESIDENT.
Where is she now?
H.M.S. PRESIDENT is currently afloat alongside the Embankment in London where she is used to host corporate and private events. In 2014, PRESIDENT became a dazzle ship once more as one of the WW1 Centenary Art Commissions under the expert hand of Tobias Rehberger. One of the most respected European artists of his generation, Rehberger is a German sculptor whose work blurs the boundaries between design, sculpture, furniture-making and installation. PRESIDENT can be seen in her new dazzle design until January 2016.
Update, Jan 2016: Due to the upcoming construction of the Thames Tideway Tunnel to tackle sewage discharges into the River Thames, HMS PRESIDENT has to leave its traditional mooring next to Blackfriars Bridge on Saturday 5 February. To get her ready to be towed downriver, her funnel and wheelhouse will shortly be removed so she can pass underneath the various bridges downstream. The current management team are working hard to secure a new mooring along the Thames, which requires a lottery grant and permission from the Port of London Authority. The aim is for the ship to be brought back and opened again to the public very soon. Source: HMS President.
Sources
Sullivan, Dick (1978) Old Ships, Boats and Maritime Museums.
Brouwer, Norman J (1993) International Register of Historic Ships.
Log books of H.M.S .Saxifrage, The National Archives, Kew.
The President to arrive today (1922) The Times. 19 June 1922, 5.